Adoption Application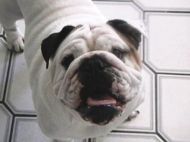 The first step to adopting a bulldog is filling out an application.  Below you will find a link to our application.  This application will stay on file in the data-base for approximately 6 months.
Please remember adopting a bulldog is a major responsibility. We are very particular in the homes these dogs are placed in. Not ever home is good for every dog. Please have patience while we try to find the right bulldog for you. Sometimes this takes time.
We regret that we cannot assure you that you will be contacted personally while your application is pending with us. We are a volunteer organization that cannot provide the level of customer support you might expect from an organization with lots of resources. We receive thousands of applications per year, and cannot respond to all of them. Please be assured that we will contact you if and when we have checked the application data base and found you to be the person most qualified to adopt a particular Bulldog.
We cannot predict how long your waiting time may be to adopt a rescued Bulldog. There are too many factors to consider, such as how well-suited the Bulldog may be for you and where you and the Bulldog are located. We do not know in advance what Bulldogs we may be receiving or what their adoption requirements may be.
If you are not able to adopt from us in the next few months, please do not decide to buy a Bulldog puppy from a pet store or puppy mill. If you do want to buy a Bulldog puppy, please use the Bulldog Club of America Breeder Referral Service.
Click here to submit an Adoption Application. Read the disclaimer and click on 'I Agree'. You will then be taken to the online adoption form.