Updates & Events
LIBR will be at the following
Petco stores hosting
Meet and Greets:
Saturday, July 26th
Paramus, NJ ( 11 - 2pm)
Saturday, August 30th
Paramus, NJ ( 11 - 2pm)
YARD SALE, Center Moriches, NY (9-4pm) See events page.
Come out and join us!
Join LIBR
Become a member of Long Island Bulldog Rescue. Our annual fee is $20.00 and includes our Rescue Newsletter!
Duke's Story
In April 2006, Duke, the year-old English bulldog was accused of being involved in the mauling a 4-year-old East Meadow boy. In a settlement, Duke will be retrained and possibly put up for adoption. Read Duke's story »»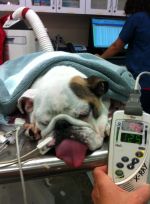 Gordo
My name is Gordo and I was a 7 month old English Bulldog puppy. I am a victim of Breeding for Profit. Please read my story here.
'Socialize' with LIBR

  Join us on Facebook where you can stay up-to-date with our news and activities, share your bully stories and questions.

 Follow us on Twitter.