About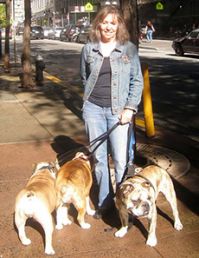 Long Island Bulldog Rescue was founded in 1999 by Laurette Richin.
Long Island Bulldog Rescue is a 501 (c) (3) non-profit organization.
Our mission is to help English Bulldogs through education, prevention, intervention and adoption. We fulfill our mission by helping, healing, and homing  abandoned, neglected, abused, or released English Bulldogs.
Why do so many English Bulldogs need rescue?
They're very popular. English Bulldogs suffer from being very cute, very popular, and very misunderstood.
Many come from puppy mills. Thousands of well-meaning people impulsively buy adorable puppies from the Internet, puppy stores or individual puppy brokers. Those poor little pups often come from puppy mills from the US and Eastern Europe. Torn from mothers in their first weeks, they often have terrible health problems, genetic disorders, and behavior problems from bad breeding, neglect, and abuse.
Many have changes in family  circumstances. Sometimes a bulldog's family separates, suffers loss or illness. Sometimes a member of the family enters the military. These days people are losing their homes and their jobs.
What does Long Island Bulldog Rescue do?
Prevention
Help people learn to plan all pet adoption—including purchase—as they would any other member of their family: with care, patience and love.
Education
Conduct speaking engagements
Work with schools
Collaborate with other rescue organizations, such as the Mayor's Alliance of NYC and the Bulldog Dog Club of America Rescue Network.
Intervention
Take and make calls/other communication with people in crisis
Complete all emergency rescue operations
Provide emergency pick up and evaluation
Give emergency and routine medical care, ranging from spay/neuter to bone setting to life-saving heart surgery
Work with shelters, law enforcement, other rescue and humane groups.
Adoption
Maintain a data base of screened people waiting to adopt. Want to be considered?
Extensively interview and introduce dogs and people.
"Match" people with dogs in need of rescue so each enjoys a "forever" home and relationship
Provide follow-up support to ensure successful homing and finalize adoption.
Please note that the Long Island Bulldog Rescue & BCA Rescue Network rescues only the purebred Bulldogs sometimes referred to as "English" or "British" Bulldogs. The AKC breed name is just "Bulldog". There are other web sites and phone listings for organizations that rescue other bull-breeds, such as — American Bulldogs, French Bulldogs, Boston Terriers, Olde English Bulldogges, American Pit Bull Terriers, American Staffordshire Terriers, Bullmastiffs, and so on.